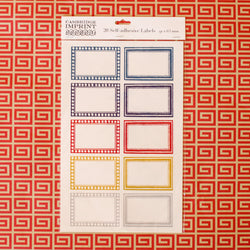 Large Multi Gift Label Stickers - Set of 20
Robust matte ivory self-adhesive labels.
Ideal for labelling boxes, files, notebooks and jam jars.
Variety of 3 designs: Hollywood; Neoclassical; Wreath and 7 colors: Black; Orange; Pale pink; Lilac: Cornflower Blue; Kingfisher; and Bawden Green.
Label dimensions: 
Designed, printed, cut and packaged in England.