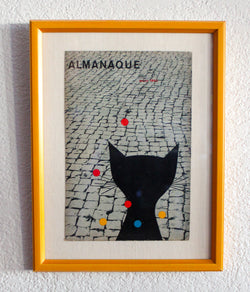 Framed Almanaque Magazine Cover - March 1960
Almanaque was a Portugese magazine printed from 1959-1960. Its covers are a great representation of Mid-Century graphic design, created by illustrator Sebastião Rodrigues. Original copies of the magazine are extremely rare so it felt only right to frame them and make them into art for your walls. 
Framed in colorful painted wood, Italian. 
Dimensions: Overall: 10"W x 13"H, Magazine: 6.5"W x 10"H